ABOUT NARUPA RESERVE
| | |
| --- | --- |
| Province: | napo |
| Year of creation | 2006 |
| Community: | Narupa and La Merced de Jondachi |
| | |
| Area: | 5,840 acres |
| Temperature: | 25°C |
| Ecosystem: | low montane forest |
| Climate: | rainy and temperate |
| Altitudinal range : | 1000 1580 masl |
Flora and Fauna: birds that can be heard and seen at the reserve include Black Tinamou, Military Macaw, Coppery-chested Jacamar, Foothill Elaenia and the Fork-tailed Woodnymph. Also, large mammals such as the puma, ocelot, and the tapir have been recorded in the reserve .
The Narupa reserve was named after a species of palm that is found locally in the eastern province of Napo. This reserve was established in 2006, with the aim of protecting an extensive remnant of lower montane evergreen forests, since these forests are threatened by deforestation for agricultural purposes.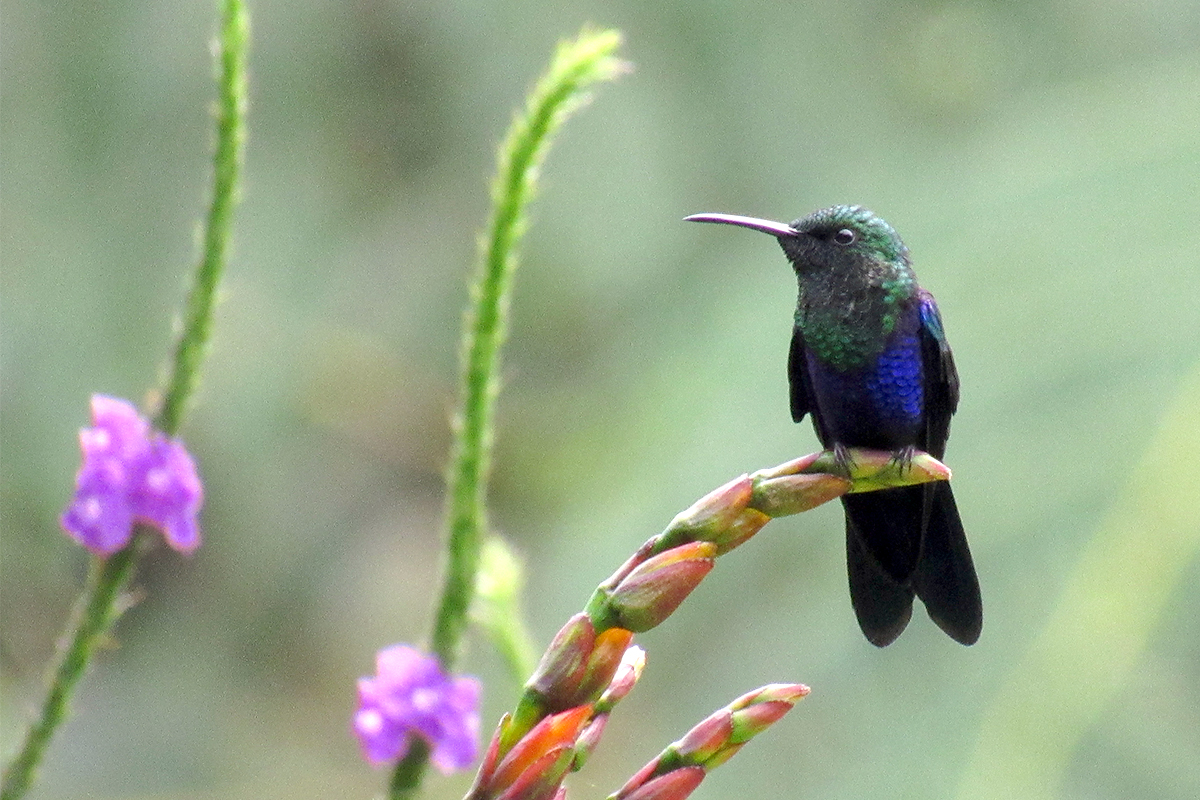 Fork-tailed Woodnymph
© Mario Pilataxi
HOW TO GET TO THERE
The reserve is located approximately 4 hours from the city of Quito. You must take the Papallacta-Baeza-Cosanga road, go through the Guacamayos mountain range until you reach the Cocodrilos community. Our refuge is approximately 1 km from the bus station of this community, on the left side of the road.
To visit us, you must BOOK IN ADVANCE, Monday through Friday from 9 am to 5:30 pm, to the following contacts:
+593 997101535 | +593 992440038
Visiting hours under reservation: Friday, Saturday, Sunday and holidays.
Entrance fee: $5 nationals / foreigners and $2.50 children.
Indications for the visitor:
Pets are not allowed
Do not touch or feed wild animals.
Use a mask and keep distance with the reserve staff.
BIOLOGICAL IMPORTANCE
---
In our Narupa reserve the presence of migratory birds such as the Cerulean Warbler, Canada Warbler and the Swainson's Thrush are present. Globally threatened birds such as the Black Tinamou, Military Macaw, Coppery-chested Jacamar and Foothill Elaenia are also protected in their natural ecosystem.
Several species of tanagers, flycatchers, and hummingbirds can be observed in bird feeders. A pair of Orange-breasted Falcon nests for some years on a cliff adjacent to the reserve. This is the only known nesting site in Ecuador for this species, which is also in danger of extinction.
Camera traps reveal the presence of large mammals, including the puma, ocelot, and tapir.
PLACES OF INTEREST
---
We recently opened the Cerulean Refuge, a rustic accommodation located in the upper part of the reserve.
Other sites of interest:
A trail that borders the Hollin river (800m).
A small hummingbird garden
Tanager feeders
Two trails of medium difficulty
Camping platform (in the lower part of the reserve)
OTHER IMPORTANT ASPECTS
---
The reserve host approximately 300 bird species, although it is estimated it will increase to 400 species, as the reserve has some areas that have not yet been explored.
Our long-term goal is to expand the reserve and establish connectivity with the Sumaco-Napo Galeras National Park and the Antisana Ecological Reserve. The eastern foothills face the expansion of the agricultural frontier causing habitat loss and fragmentation. This connectivity plan in the area would help conserve the habitat of globally threatened species such as: Harpy Eagle, Black Tinamou, Cerulean Warbler, Orange-breasted Falcon, Military Macaw, Coppery-chested Jacamar and the Foothill Elaenia.